CEC Luncheon with U.S. Ambassador Jon Huntsman
Source:  | Date: 10-07-15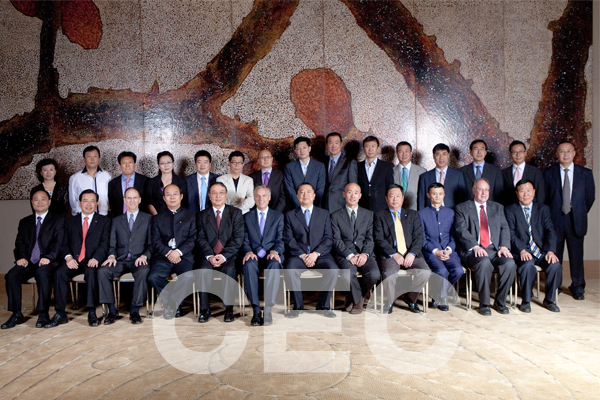 (Beijing, 7 June 2010) Mr. Jon Huntsman, U.S. Ambassador to China, joined CEC members at a luncheon, discussing the strategies for enterprises in the context of changing Sino-US relations.
The luncheon convened 22 members from CEC, including Mr. Liu Chuanzhi of Lenovo, Mr. Frank Ning of China National Cereals, Oils and Foodstuffs Corporation, and Mr. Wang Shi of Vanke. Mr. Hu Baosen of Central China Real Estate acted as the moderator, and Mr. Liu Donghua, the Deputy Executive Chairman of CEC, delivered welcome remarks.
In his keynote speech, Ambassador Huntsman shared with CEC members his opinions on Sino-US relations and the economic development of the two countries. He stressed two important trends to anticipate in the future: first, the trade balance between China and US will begin to correct itself, in large part because China is going to grow from an export-based model to a consumer-based model; second, more Chinese investment has started to enter the U.S. market and will increase. He also isolated energy and healthcare as the two critical growth industries in America in which China will participate.
Raised in a family of entrepreneurs, the Ambassador was insightful on entrepreneurship. He believes entrepreneurs have been the maxim of the American economic system, and he asserted, "Entrepreneurs are willing to take a risk, and they are willing to be rewarded if all goes well." This has inspired the Chinese entrepreneurs to have heated discussion on the role of enterprises in the new environment.
The dialogue covered diverse topics such as the development of enterprises, Sino-US relations, trade, education and cultural exchange. Mr. Liu Chuanzhi, the honorary board member of CEC, and Ms. Xia Hua of Eve Fashion Group presented a gift to the Ambassador. All the participants consider the luncheon a rewarding experience.