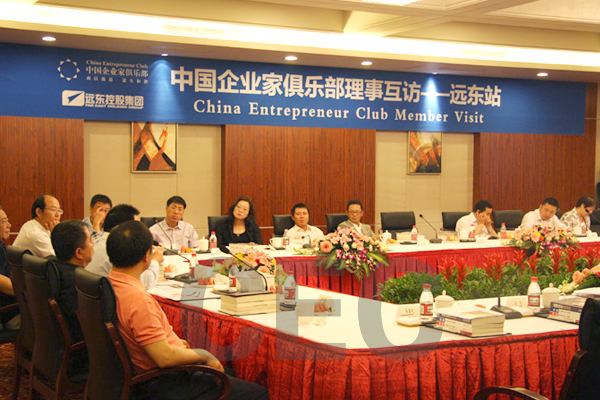 (Yixing, 27 May 2010) The fifteenth member visit of China Entrepreneur Club was hosted by Far East Holding Group, a leading Chinese enterprise in cable manufacturing with international reputation. Mr. Jiang Xipei, Chairman and CEO of the Group, shared his experience and vision with the participants and received positive feedback.

Over twenty CEC members attended the event, including Mr. Ai Feng of China Top Brand Strategy Promotion Committee, Mr. Hu Baosen of Central China Real Estate, Mr. Li Shufu of Geely, Mr. Huang Nubo of Zhongkun Investment, Mr. Zhu Xinli of Huiyuan Juice, and Mr. Liu Donghua, the Deputy Executive Chairman of CEC.

Mr. Jiang delivered a keynote speech entitled Twenty Years' Development of Far East Holding Group, sharing his story of launching the business by overcoming hardship as well as the rapid development of Far East in the past two decades. Starting from clock and watch repairing, he expanded the business to a large-scale private joint-stock enterprise group with core business in wire, cable, medicine, real estate and investment. Mr. Jiang's legendary story, his understanding of entrepreneurship based on the unique experience, and his insights on management struck other CEC members, who actively provided advice on corporate strategy, planning for involvement in diversified industries, market expansion, etc. The discussion was held in a heated but friendly atmosphere.

In the afternoon, Mr. Jiang accompanied his fellow CEC members to visit a number of places, including Far East City Plaza developed by Far East Real Estate, the new headquarter of Group, the workshop of No.1 Factory of Far East Cable, Far East International Cable Museum, Far East University, etc. Mr. Jiang proudly introduced the new factory, the automatic production line, and the museum where visitors can have a rich experience. CEC members were deeply impressed by Far East's management of lean production, corporate culture and social responsibility. Mr. Jiang expressed his sincere appreciation to the support of fellow CEC members and announced his ambition of leading Far East to become the top cable manufacturing enterprise in the world.

Furthermore, CEC was very delighted to have a new member, Mr. Feng Lun of Vantone Industrial Co., Ltd. A special welcome ceremony was held during this visit, and Mr. Hu Baosen, President of CEC, acted as moderator. Mr. Feng, who highly recognizes the value of CEC, looks forward to engaging in CEC's events actively and offering full support to the Club.