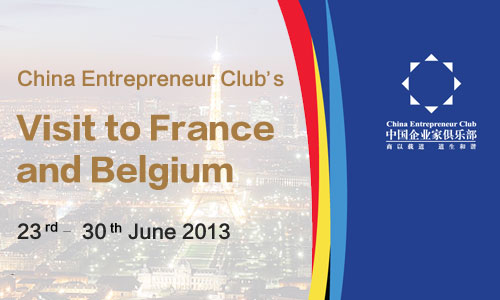 Belgium and France roll out the red carpet next week for 30 Chinese businesses leaders in a visit designed to promote trade, despite an ongoing dispute between Europe and China.
  The visit by the delegation from the Chinese Entrepreneurs Club (CEC) was announced Tuesday at a press conference in the French embassy in Beijing.
  The delegation includes business founders and innovators such as Jack Ma of online retail giant Alibaba, Charles Chao from online media company Sina and Liu Chuanzhi from computer colossus Lenovo.
  They will be received in Belgium by the President of the European Commission, Jose Manuel Barroso, Prime Minister Elio Di Rupo and Crown Prince Philippe.
  In Paris, President Francois Hollande will host a lunch Tuesday, and they will also meet Foreign Minister Laurent Fabius.
  The CEC was founded in 2006 and is the most influential group of business leaders in China.
  "A delegation led by a minister would not be received in this way," said Wu Jianmin, an advisor to the CEC and China's former ambassador to France.
  In 2012, the total turnover of the 46 CEC entrepreneurs' firms was 2,000 billion yuan ($326.33 billion).
  Paris will want to expand on traditional economic cooperation in the aviation and nuclear sectors, to other areas including food, health and the digital economy, said France's ambassador in Beijing, Sylvie Bermann.
  The CEC delegation will also meet top executives from French companies such as Dassault, Schneider Electric, BNP Paribas and Chanel.
  The visit comes after a recent deterioration in trade relations between China and Europe, centred on a dispute over solar panels that risks escalating into a trade war.