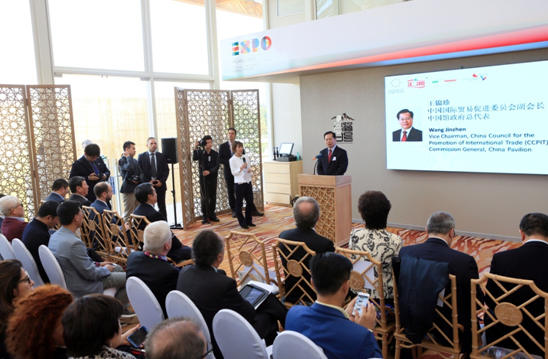 MILAN, Oct. 22 (Xinhua) -- There is huge space for new collaboration between China and Italy, officials from the two countries said here Wednesday as a delegation of the Chinese Entrepreneur Club (CEC) concluded a tour at the Milan Expo.
The two countries started making strategic agreements some 10 years ago, and bilateral trade grew to over 48 billion U.S. dollars last year, Wang Jinzhen, commissioner-general for the China Pavilion at Milan Expo 2015 and vice chairman of the China Council for the Promotion of International Trade, told a news conference.
A new partnership lies ahead, said Wang, recalling a three-year action plan issued last year by China and Italy covering cooperation in areas of trade, industries and investment, finance, business, tourism and technological innovation.
The CEC delegation includes most influential entrepreneurs from various key economic sectors such as investment, software, health care, agriculture, real estate and entertainment.
During their visit to Italy, the Chinese top business leaders met with their Italian counterparts and local authorities first in capital Rome and then in Florence before concluding the tour in Milan, a central area for Italy's industry and investment.
"There are 94 Chinese companies based in Lombardy, or 40 percent of the total in Italy," said Roberto Maroni, president of Lombardy region, whose capital is Milan. In addition, there are more than 235 Italian companies with Chinese investments in the northern region, he noted.
Lombardy is considered the wealthiest region of Italy and one of the most developed areas in Europe. Several important Chinese companies and banks have offices and branches in Milan.
Fostering relations between the two ancient countries is also part of the China-proposed "Belt and Road" initiative, said Wang Dong, Chinese consul-general in Milan.
The "Belt and Road" initiative, poised to bring great opportunities for the development of China and other countries, refers to the Silk Road Economic Belt and the 21st Century Maritime Silk Road, with the aim of reviving the ancient trade routes.
The six-month food-themed Milan Expo 2015 is a valuable platform for China-Italy relations. Representatives of as many as 19 Chinese provinces and 937 companies have visited the world exposition, which has hosted 15 bilateral business forums with the signing of 23 agreements, Event and Entertainment General Director Piero Galli said.
Saying the role of Chinese entrepreneurs in the Milan Expo was fundamental, he highlighted mutual interest in pushing toward stronger cooperation.
Ma Weihua, president of the CEC and leader of the delegation, highlighted the positive results achieved by his delegation in the Italian tour.
"From the visit of these days, we have realized there is big complementarity between Italy and China," he said. Italy, he noted, is struggling to leave the economic crisis behind and needs to export more goods to China and attract more Chinese capital and investment.
At the same time, China needs Italian technologies and expertise in business management, Ma added. "We are convinced this is the right era to push toward stronger cooperation. Our visit was just a start of a new collaboration between our two countries," he concluded.