After this meeting, President Macron updated his Twitter
Source: 中国企业家俱乐部 | Date: 18-03-05  
China Entrepreneur Club held a close-door meeting with Emmanuel Macron, President of France in Beijing on January 9, during his first official visit to China. CEC's Chairman Jack Ma(Alibaba), President Ma Weihua, vice-president Guo Guangchang(Fosun) and Xu Jinghong(Tsinghua Holdings) and others had in-depth talks with the President Macron, covering topics including SMEs development in both countries, youth exchange, Chinese investment in France and Sino-France trade relations.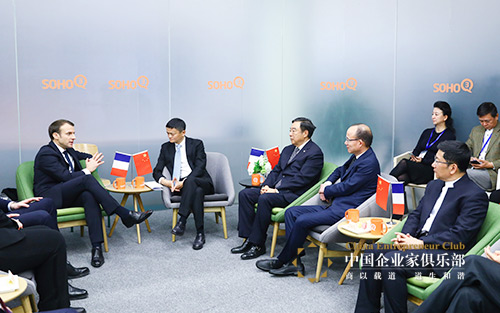 After the meeting, President Macron posted several Twitters, indicating his thoughts for the meeting.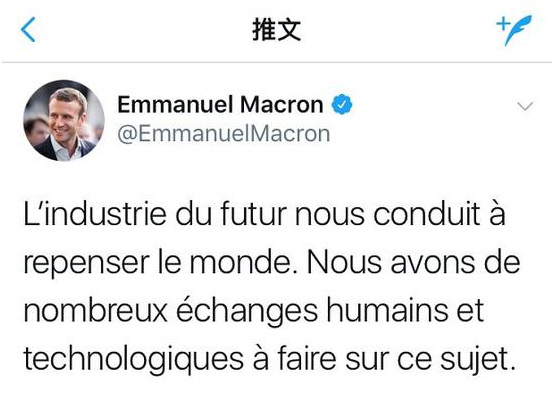 Participants:
> Emmanuel MACRON: President of People's Republic of France
> Jean-Yves LE DRIAN: Minister of Foreign Affairs
> Bruno LE MAIRE: Minister of Economy and Finance
> Frédérique VIDAL: Minister of Research
> Jean-Maurice RIPERT: French Ambassador to China
> Jack Ma: Chairman, China Entrepreneur Club; Executive Chairman, Alibaba Group
> Ma Weihua: President, China Entrepreneur Club; President of Council, National Fund for Technology Transfer and Commercialization; Former President, China Merchants Bank
> Guo Guangchang: Vice-president, China Entrepreneur Club; Chairman, Fosun Group
> Xu Jinghong: Vice-president, China Entrepreneur Club; Chairman of the Board, Tsinghua Holdings Co., Ltd.
> Tu Guangshao: General Manager, China Investment Corporation
> Dai Wei: Founder and CEO, ofo
> Jim Zhang: Chief Representative, The Nature Conservancy (TNC) Asia Pacific Region; Chairman, LAONIU Foundation; Founding Partner, HY Venture PartnersAi Xin: Chairman, Suntone Group
> Xia Hua: Chairwoman, EVE Group


Event photo: