Meeting with Consul General of the P.R.C in New York
CEC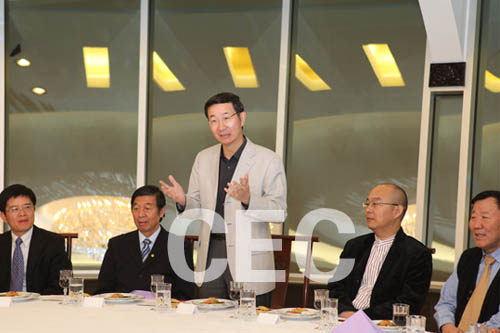 (New York, Nov. 6, 2011)On the evening of Sunday, November 6, Mr. SUN Guoxiang, Consul General of the P.R.C. in New York, met with the CEC Delegation headed by Mr. LIU Chuanzhi, Chairman and President of Legend Holdings Ltd., at the consulate.
  Mr. Sun summarized his experiences and observations since his assuming the post as P.R.C. Consul General in New York two and a half months ago, emphasizing the important roles that enterprises and entrepreneurs have played in China-U.S. relations. He said the relationship between the two countries are now experiencing a "crucial time." He hopes the visiting entrepreneurs can help promote an all-round understanding of the "real" China through their communications with U.S. financial, academic and political communities. From his point of view, the present is a unique and significant time in China-U.S. relations, but the efforts of the CEC will help improve the most important bilateral relations in the world.
  He said that there is a widespread bias against Chinese enterprises among the U.S. public and media. Many think that Chinese enterprises are all state-supported and developments are driven by preferential government policies. Therefore, Mr. Sun hopes the entrepreneurs from CEC can introduce their enterprises and how they built them to the U.S. financial, academic and political communities, so that Americans can have a more comprehensive understanding of the Chinese economy.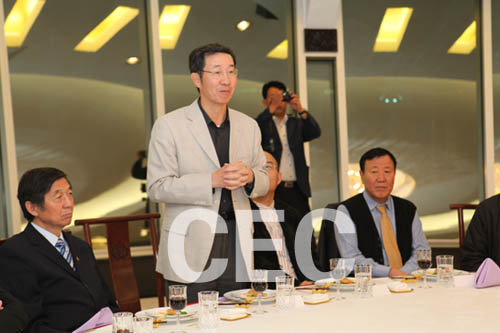 During the meeting, Mr. FENG Jun, Chairman of aigo Digital Technology Co., Ltd. (aigo), mentioned his own experience of negotiation with the government officials of a north European country, in which the officials promised to grant them working visas if Chinese companies invest in that country. So, Mr. Feng wonders whether the American government will do the same if aigo moves to establish a branch office within the United States. Mr. Feng said he feels that Europe is more willing than the U.S. in terms of making compromises to attract investment from Chinese enterprises. Consul General Sun hopes the entrepreneurs can put forward their own requests to U.S. government officials. State governments generally embrace the investment from Chinese companies, but they will give limits to Chinese investment because of their bias. "You can tell them the Europeans' attitude." Mr. Sun said.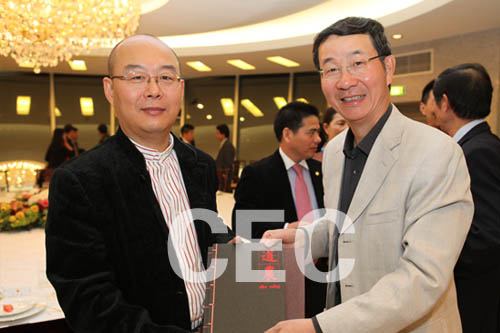 A senior Chinese diplomat and scholar of international relations, Mr. WU Jianmin, Vice Chairman of China Institute for Innovation and Development Strategy, also attended this meeting. Mr. Wu, who agrees with Mr. Sun's viewpoint, said that these Chinese private entrepreneurs are "important contributors to China's productivity" and "the most dynamic force that pushes China's social and economic progress." Thus, they will remarkably break the stereotype and improve China's image among the U.S. public and media. Moreover, these people who possess huge amount of capital can invest here and bring employment, which is currently the most immediate concern of the U.S. government. "You are playing a significant role in China-U.S. relations because you can promote investment." Mr. Wu said.
  Mr. Sun also hopes that CEC members can depict their own experiences or those of their companies to explain to the public the two issues Americans are most concerned about: the appreciation of RMB and the systematic innovation of Chinese enterprises.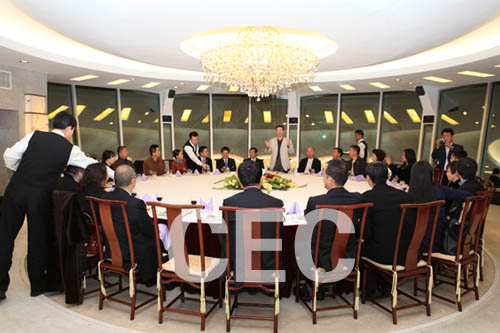 Editor's note
  About China Entrepreneur Club (CEC)
  Established in 2006, China Entrepreneur Club (CEC) is a non-profit organization comprised of the most influential business leaders in China. It is dedicated to "promoting entrepreneurship and sustainable development of the economy and society," and to cultivating a positive commercial force and paving a green path for business development.
  All members are leaders in China's market economy, and they have guided their Non-State Owned Enterprises to commercial success by applying the laws of a market economy. Additionally, CEC member companies are leaders in their respective industries in China, serving as role models to others in the market economy in transforming themselves into greener enterprises and applying new business models in China. CEC member companies are all dynamic and economically powerful, as total annual direct sales revenue for the 43 member companies amounts to more than RMB 1.5 trillion, together accounting for roughly 4% of China's GDP.
  For more detailed information on CEC's U.S. Trip, please visit http://www.daonong.com
  Media contact:
  Mr. David Cai
  Email: cait@daonong.com
  Tel: +86-10-627-66-066 ext 831
  Ms. FAN Xueying
  Email: fanxy@daonong.com
  Tel: +86-10-627-66-066 ext 897
Share Amoung: