Dialogue with Chairman of JP Morgan on World Economy
CEC 
  (New York, Nov. 7, 2011)At the headquarters of JP Morgan, one of the most powerful men on Wall Street, Jamie Dimon, the Chairman and CEO of JPMorgan Chase & Co., shared his views on the world economy with the visiting delegation from the China Entrepreneur Club.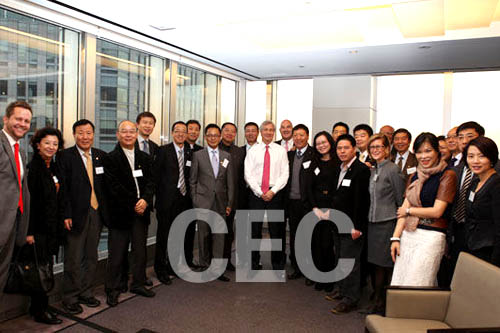 Mr. Dimon said that Europe has encountered serious problems, but it will be able to survive because there is no other choice.asEurope has such a huge economy, and it will not go bankrupt easily. Europe's financial plight will certainly cause some difficulties to the financial institutions in U.S., but Mr. Dimon believes that it will not be like the year of 2008, when the financial crisis has brought systematic risks to the U.S. financial sector.
  Mr. Dimon believes that Greece's debt problem is the crux of all the economic problems in Europe, which has become a global issue rather than a mere European or Greek issue. The important thing is that Europe must ensure larger economies, like Spain and Italy, will not be dragged into a situation similar to Greece. The more robust European economies, such as Germany and France, had better make sure that they moderate their budgets to save enough money to assist these subpar economies, Mr. Dimon said.
  Mr. Dimon is optimistic about the U.S. economy, whereas the economy's fundamental aspects, like the enterprises and liquidity, are doing quite well. Both the housing market and companies are in recovery. Though not very strong, the U.S. is recovering, and the current deadlock in U.S. domestic politics can still be resolved.
  He encouraged the Chinese entrepreneurs to invest in the United States, though the U.S. has just experienced a crisis. Although there are risks in investment, he believes that the opportunities for gain are far greater. . He said that Chinese entrepreneurs should first consider their own advantage, and then find a local partner to enter the United States, the world's largest market.
  During the meeting, Mr. WANG Chaoyong, the current Chairman of ChinaEquity Group Inc., and former Beijing Chief Representative of Morgan Stanley, suggested Mr. Dimon to give some advice on the management of China's huge foreign exchange reserve.
  Mr. Dimon said that China's foreign exchange reserves could be more diversified in currency distribution; it is obviously unreasonable that sixty-percent of current reserves are U.S. Treasury holdings. A better approach is to invest in the blue chips on the U.S. stock market, such as General Electric, Coca-Cola or JPMorgan Chase, which will be much better than merely holding U.S. bond. Although the investments initiated by China Investment Corporation (CIC) are quite controversial in China, Mr. Dimon still believes that the CIC's investment pattern has taken the first step toward changing the management of China's foreign exchange reserves. Mr. Dimon gave some technical advice, but in his opinion, China needs to adjust its deep-seated management thinking to improve the management of its foreign exchange reserves.
Share Amoung: