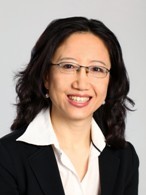 徐海瑛
  诺华集团(中国)总裁
  徐海瑛女士于2012年3月12日起担任诺华集团(中国)总裁一职,负责诺华在中国的发展战略、公共事务和公益项目。
  徐海瑛女士拥有在大型跨国公司担任高级管理职务的丰富经验。在加入诺华集团(中国)之前,徐女士是中国惠普公司主管政府及公共事务的高级副总裁。徐女士还曾长期服务于惠氏和辉瑞公司,负责政府关系、政策研究和对外事务。在开始跨国公司管理生涯之前,徐女士还曾在太合控股有限公司担任高级管理职务。
  徐海瑛女士毕业于北京大学,获得经济学学士学位和国际金融硕士学位。
  Helen Chui
  Country President
  Novartis China
  Helen Chui was joined Novartis China on March 2012 as Country President. In this role, Helen will be responsible for maintaining and further building a reputation of impeccable integrity for Novartis as well as shaping the political and legislative environments with a view of maximizing business opportunities in China. She will lead the Healthcare Policy, Corporate Social Responsibility, Health Safety & Environment, Government Affairs and Communications teams.
  Helen joins Novartis from China Hewlett Packard where she was Senior Vice President for Government and Public Affairs. Over the course of her career, she has held a number of senior leadership roles in Fortune 500 companies, including five years in the Pharmaceutical industry at Wyeth China and Pfizer China. Helen brings to Novartis an in-depth knowledge of the Chinese political and regulatory environments and policy-making process. Additionally, she has extensive business development experience, including maintaining an extensive network with senior government officials at both central and local levels.
  Helen graduated from Peking University in 1990 with a Bachelor's degree in Economy Administration, and she holds a Master's degree from Peking University in International Finance.