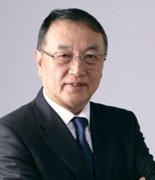 中国企业家俱乐部 理事长
  联想控股有限公司 董事长
  联想集团(Lenovo)创始人、名誉董事长
  君联资本、弘毅投资、融科智地董事长
  1966年毕业于西安军事电信工程学院。中共十六大、十七大代表,九届、十届、十一届全国人大代表、第八届和第九届全国工商联副主席。
  柳传志被认为是中国最具影响力的商业领袖之一。1984年,柳传志创办了联想,在其领导下,联想控股已成为横跨实业与投资的大型综合企业,打造出了如联想集团、神州数码、君联资本、弘毅投资、融科智地等一批行业领先的企业。
  柳传志曾被美国《时代》周刊评为"全球25位最有影响力的商界领袖"(2001),被英国《金融时报》评为"新世纪十年改变世界的50人"(2009),被美国《财富》杂志和CNN联合评选的"中国十大最有影响力的商界人物"(2012)。
  LIU Chuanzhi
  Chairman, China Entrepreneur Club (CEC)
  Chairman of the Board, Legend Holdings Limited
  Founder and Honorary Chairman, Lenovo
  Chairman of Legend Capital, Hony Capital and Raycom Real Estate
  Mr. Liu Chuanzhi is recognised as one the most influential business leaders in China. In 1984, Mr. Liu and ten other researchers at the Computing Institute under the Chinese Academy of Sciences started up Legend Holdings Limited. Under his leadership, Legend Holdings has become a conglomerate covering both industrial and investment businesses, and has built a number of industry leading subsidiary companies such as Lenovo, Digital China, Legend Capital, Hony Capital, Raycom Real Estate, etc.
  Mr. Liu received numerous recognitions and awards such as one of the 'Top 25 Most Influential Leaders in Business' (Time magazine, 2001), 'Fifty Faces That Shaped a Decade' (Financial Times, 2009), and '10 Most Powerful Businesspeople in China' (Fortune/CNN, 2012).
  Mr. Liu is a deputy to the 16th and 17th National Congress of the Chinese Communist Party (CCP), and a delegate to the 9th, 10th and 11th National People's Congress (NPC) of China. His other civil roles include member on the Advisory Board of the School of Economics & Management of Tsinghua University, and guest professor of CEIBS (The China Europe International Business School), Peking University and other universities.
  Born in 1944 at Zhenjiang City of Jiangsu Province in China, Mr. Liu graduated from the Xi'an Military Communications Engineering Institution in China in 1966.