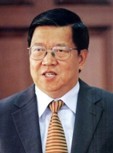 博鳌亚洲论坛国际咨询委员会委员,原外经贸部首席谈判代表、副部长
  龙永图先生1965年毕业于贵州大学英文系,1973年至1974年在伦敦经济学院学习,获荣誉经济学博士学位。曾出任对外贸易经济合作部国际司司长、首席谈判代表、副部长。2003年至2010年任博鳌亚洲论坛秘书长,现任论坛国际咨询委员会委员。曾于2003年获得了"CCTV年度经济人物"的称号。2004年10月,获联合国秘书长安南颁发的联合国特别奖,以表彰他对促进中国与联合国合作的杰出贡献。
  LONG Yongtu
  Member of the International Advisory Board, BOAO Forum for Asia, Former Vice Minister and the Chief Negotiator of Ministry of Foreign Trade and Economic Cooperation
  Mr. Long is member of the International Advisory Board, BOAO Forum for Asia. He served as the director-general of international department of Ministry of Foreign Trade and Economic Cooperation (MOFTEC), Vice Minister of MOFTEC, and the Chief Negotiator for China's accession to the world trade organization. He was Secretary-General of BOAO Forum for Asia from 2003 to 2010.
  Mr. Long was awarded "CCTV 2003 Annual Economic People". He received a special award by the United Nations Secretary General Mr. Kofi Annan in October 2004, for his outstanding contribution to the UN partnership in China and in promoting the values of the UN.
  Mr. Long received his BA Degree of British and American Literature in the Guizhou University in 1965. He had his post graduate study in economics at London School of Economics and Political Science (LSE) from 1973 to 1974 and was awarded the honorary degree of Doctor of Science (Economics) by LSE.