An Interview with Peng Lei:The DNA Code of Alibaba
作者:Cao Kezhen Wang Rui | 时间:09-09-14 | 来自:《Green Herald》
  Every great company has a spirit, behind which a group of genetic engineers are building the chain of success.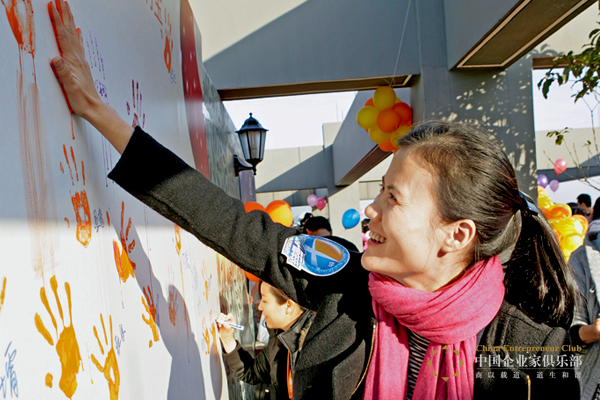 Q=Green Herald
  A=Peng Lei
  Agood company is filled with love." Peng Lei says, recalling her experience during a study tour in the U.S. earlier this year.
  Starbucks was the company that impressed her the most. Although Starbucks had to close some stores and lay off some employees, the leniency and love of its founder, Howard Schultz, left her with an indelible impression of the company's greatness.
  "Each Starbucks store was like a family," Peng says. "The expression in the eyes of the employees was like those often found between sisters and brothers rather than co-workers, just like ours when we started our company at the Lakeside Garden." Her experience at Starbucks made Peng more convinced of Alibaba's judgment of people and the way it goes about business.
  The success of Alibaba is not only because of a great objective and the great ideals that Jack Ma hold, but also because of the strong executive team he leads.
  "The core competence of a company is people, and the core competence of people is the art of employment," Ma says. "Your ideas can be copied, but the closeness of relationships cannot be copied, and the art of recruitment and training cannot be copied."
  Peng is one of the co-founders of Alibaba and an "artist" who recruits talent for Alibaba. She is the Chief HR Officer and HR President. A university lecture Ma assigned to go through resumes, Peng, after 10 years, is now in charge of the departments of corporate affairs, administration, marketing and HR.
  Peng plays a special role at Alibaba. While Ma and other presidents are like generals on battlefields, she is more like a guardian ¨C "I take care of the people and the forces that unite them."
  Peng is taking on the responsibility of sustaining the development of Alibaba's corporate infrastructure and the preservation of corporate culture amid the company's accelerating growth.
  Culture is DNA
  Culture is the most unique aspect of Alibaba. We always view culture as the genes of the entire company, that is, our DNA.
  --Jin Jianhang
  If a company is a human body, then corporate culture is the person's immune system, using which the person will never get sick even if he never takes medicine.
  --Wang Tao
  Q: Whether it is the Six Core Values (Six Pulses Magic Sword) or the "Ali Orange (subculture)," Alibaba culture is very interesting and rich. Who and what were the determinants for the formation of the culture?
  A: First of all, I never think culture can be produced. Unlike a business, culture cannot be planned. Although there may be a guideline or a feeling in the beginning, corporate culture has to "emerge" as the company grows, and then take shape after its elements have been built up and nurtured.
  Some attributes of Alibaba's current culture existed as early as we started but was just a kind of privity among us, a way of doing things before a culture took shape. In 2000, one year after the company was founded, there were already more than 100 employees. We began to realize that many problems could not be solved if we only relied on the privity. Good practices, concepts and ideas at Alibaba in the past could not be sustained and reproduced by word of mouth alone. Just at that time, Oliver Kuan Mingsheng joined Alibaba, so we introduced GE's framework, which finally grew into the Nine Core Values after continuous refinement. This was critical for the formation of Ali's culture.
  Jack Ma is absolutely the core for the evolution of Ali's culture. Certainly, every co-founder made a contribution, especially Guan Mingsheng, who helped us "produce" and actualize a culture. Later, Jack Ma thought the Nine Core Values (Master Lonely Nine Sword) were too hard to remember, so he reduced it to Six Core Values, which were interpreted the same way in many respects.
  I initiated "subculture building" last year. Since Alibaba introduced subsidiaries, each of them has its distinctive features in business. It was hard to implant the "six values" using the same pattern in all of them. The Six Core Values are a foundation on which each subsidiary creates its own values, independent of and different from other subsidiaries.
  Ideology: Putting ideas into practice, using ideas to guide practice
  Many companies talk about mission and values, but values tend to be superficial and corporate culture eventually just becomes posters on walls. The secret to Alibaba's long-lasting corporate culture lies in putting ideas into practice and using ideas to guide practice.
  --Zeng Ming
  Q: How did you come up with "virtual" culture practices?
  A: Corporate culture is intangible. If no action is taken, nothing is concrete and nobody knows what to do, then culture will not last.
  The most impressive example of putting ideas into practice at Alibaba was when we applied values to performance assessment, something we've done since 2003. The Six Core Values of Alibaba Group, including the subculture of all subsidiaries, were described as particular deeds. For example, what is teamwork? An example of teamwork is airing opinions as fully as possible before a decision is made and adhering to the decision in behaviors and words. Without the description of specific deeds, people would not put forward any opinions at meetings and then complain after the meetings, and the execution of the entire management team cannot be guaranteed, just as it is in many other companies. Each value, including our interpretation on leadership - Nine Secret Tactics - is described as concrete deeds.
  Tactic 1: Carrot-and-stick value assessment
  The cultural values of a company are used to remedy an imperfect system, but need to be guaranteed by the system.
  --Jack Ma
  Nobody's values are innate. A vast majority of values are acquired through exercise. How does Alibaba exercise them? With carrot and stick.
  --Wei Zhe
  Alibaba's values are not based on impressions. Management must explain its reasoning, i.e. so-called cases, when they mark an employee's performance. In a sense, this is a high requirement for our management staff, that is, to assess not only results but also processes. There is a saying at Alibaba: processes without results are nothing; results without processes are not reproducible.
  --Jin Jianhang
  Q: 50% of the performance assessment at Alibaba is about corporate culture and values. How is that 50% quantified? How does one ensure implementation effects during the assessment?
  A: I came up with this assessment system introduced in 2003. It is impossible for a young team to exactly understand culture through just a few events and trainings. There must be specific standards during the development of a company, just as in the growth of a child. Employees need to know what they are supposed to do and what they are not. Values are not an instrument of punishment but a rule of doing things.
  The purpose of our assessment is to have everyone know the definition of values. We do not assess culture but the rules you follow in the company. For example, what is the most suitable behavior for commitment? People will know what to do if they understand the performance assessment.
  When I developed the system, my ideal was that we would need no value assessment in three years. The purpose was not the assessment itself but the awareness building. However, it was discovered to be not feasible three years later. Considering we double our staff size every year, if the culture were not improved through corrective measures, it would be impossible to sustain the culture. My ideal was to make our behaviors the inherent manifestation of our values.
  Certainly, it was difficult to implement this performance assessment system at the very beginning when all sorts of disputes arose. One year later, it was accepted. After the assessment was introduced, an unwanted sign emerged: the values became an excuse for blaming subordinates. Values are tools of motivation instead of punishment. Thereupon, any punishment based on values was prohibited starting from 2005. A superior had to explain with examples when assigning marks, rather than making sweeping judgments.
  During the entire implementation process, we organized a number of trainings to teach the employees how to cultivate value-driven behaviors.
  Tactic 2: HR "priests" under the "commissar" system
  Human resources at Alibaba is a fashionable, cutting-edge and challenging profession. Today, Alibaba HR personnel are strategic partners of line departments, agents of change and close friends of employees and administrative specialists.
  --Yue Ping
  The entire commissar system plays a major role in keeping, inheriting and promoting culture. Jack Ma's individual force is not strong enough to cover every employee. The commissars in every corner of the company have played a profound role in communicating the culture.
  --Wang Tao
  Q: What is the role of HR in the overall system of Alibaba? How does HR coordinate with other departments?
  A: In 2005, Ma asked us to watch a TV play called The Sky of History. The commissar in the play was an interesting character who was only in charge of ideological matters. Then we set up a commissar system within Alibaba.
  Like a priest, a commissar can detect the soul of people. While a line manager is like a dad, a commissar is like a mom. The commissar will not be able to help with the dad's job until "she" has thoroughly understood the businesses and the strategies.
  It is interesting that sometimes the "dad" acts more like a "mom." Our area's general manager cares about employees as much as HR, while a commissar's thoughts may be inclined towards performance assessment. Someone said that I was more of a CFO, as I considered costs. To think in the capacity of someone else can expand our minds. No one should be confined by his or her role.
  Q: What are your particular requirements for the HR staff?
  A: I put forward three principles last year.
  First, to be a "real" HR (practitioner).
  "Real" means honest. The worst thing for an HR employee is to act as an inhuman professional manager: caring only about process, system and principle. My ideal is to find a way to touch individuals' souls, to stimulate them and the team and help the company grow. We need HR to have a soul.
  The essential requirement for HR is to be honest. HR will be exposed to a lot of sensitive information. If you work with a bad temper, you are simply not suitable for HR.
  Second, balance instead of compromise, be principled instead of stubborn.
  HR is an art. In many cases, balance needs to be sought. This requires HR employees to be open-minded, mature and capable of seeing things through, beyond techniques. In addition, many things are principled. We must adhere to principles but must never be their slaves.
  Third, to know how and why.
  Above all, HR must see the essence behind the appearance. If an HR employee does not probe, he is likely to be misguided by details or something on the outside and to make decisions in haste.
  HR needs to step further to know the work and the staff. Second, in communication, HR needs to talk as much as possible so as to give as much background information as possible. Many conflicts arise not because of the issues per se but because of insufficient information. Through adequate communication, many conflicts can be avoided.
  Tactic 3: Cultivation of learning teams
  The training system in Alibaba is quite perfect. Each subsidiary provides the recruits with its training on corporate culture, called "a long-term plan." There are also numerous departmental trainings and sharing for the incumbent. The company is running a night school that provides both selective and compulsory subjects as a regular night school.
  --Wang Tao
  Our trainings take various forms. Recruits may even be organized to raise start-up funds for social affairs. We design a three-month caring period in which a mentor for work and a mentor for life are assigned for every new recruit. Between the sixth and 12th month after a recruit reports to duty, he or she will be given the choice of "reeducation" to receive further training.
  --Yue Ping
  Q: "Parachuting" is a distinctive feature of the use of human resources by Alibaba. How do you internalize an outside manager as quickly as possible?
  A: "Eternal Lakeside" is a training program for executives from the outside. During the one-month training, Jack Ma and the presidents of all subsidiaries will talk about the corporate culture, history of Alibaba and the Nine Secret Tactics, etc., but very little about the business.
  "Parachuting program" is also a program for new executives. Within three months after a new executive joins Alibaba, the Group head will communicate with him or her about a review and assign a partner with similar experience and at a similar level within the company to help him or her address any problems.
  Alibaba has an organization department for executives that regularly delivers lectures and organizes study tours. They are effective activities for team building. During the two days off, a new executive can communicate with a veteran executive, or they may make comparisons with one another.
  Executives are mature and experienced people, and their views of the world and values may be hard to change. Exhaustive comprehension at the level of Tao is essential to them. When they have comprehended themselves fully, internalization is no problem. So I am making a trial to invite three masters from the religious sector to give us lectures, helping us with better self-understanding at the level of Tao. The more mature you are, the higher peace and balance you pursue, the more eagerly you demand self-comprehension and the more thoroughly you want to see that your achieve balance between mind and body.
  Tactic 4: Teach by example
  Jack Ma's entrepreneurial team has profound faith in culture and value. Their contributions and enthusiasm have inspired many staffs. A group of cultural believers pass on the culture to newcomers.
  --Wang Tao
  Genuine corporate culture lies in whether you really believe it, whether you really implement it, whether the incumbents are practicing what you have talked about.
  --Qiu Changheng
  Q: Where does coherence lie at Alibaba?
  A:Jack Ma and people like us are pure-hearted. We would not judge a person by results. Communication and trust are always the basis.
  One night in America, after we drank a little, Cai Chongxin proposed that we comment on each other. We talked from 8 p.m. till 1 a.m. the next morning, feeling so good. What you think you are is not the same as what others think you are. This was like looking into a mirror.
  Now we have a lot of meetings, but very few of them involve soul-touching talks. I would be unhappy with such meetings where people talk about how to split tasks or how to schedule projects, because the distrust among them is obvious. Those are "meetings of heads, hands and feet." I expect closer relations among our employees.
  Therefore I started to promote the "meeting of souls" as soon as I came back from America. First, subsidiary presidents commented on each other; second, they made comments on the management of the group. Mind-to-mind communication is rare during work. If one can speak out his view on another, the discussion will be open.
  From the very beginning, Alibaba has been promoting its culture in an excessive manner, and a lot of people have been practicing it in person. They are not perfect, but many things are true in such a place as Alibaba. To be true is the most important prerequisite of trust. Everything is crystal clear, no matter merit or demerit, strength or weakness. Anything is acceptable at Alibaba except pretense. People who have worked at Alibaba may find it hard to muddle along at another company. It is not that Alibaba's environment fits everyone but that Alibaba appeals to those who embrace idealism and honesty.
  A great opportunity
  Like Jack Ma, Peng Lei had been a university teacher for five years before joining Alibaba in 1999. When talking with us, she would, out of habit, write down keywords on the whiteboard in the office.
  Ten years ago, she felt "neither confident nor interested" about the establishment of the great Chinese company Jack Ma proposed. "I just enjoyed the process of doing something with a group of enthusiasts."
  Today, the stage is larger, but Peng admits her mindset has not changed very much. "I do not expect the Alibaba team to care only about business, profit, projects and figures. I wish we can accomplish a great goal and gain an unforgettable experience."
  In her visit to the U.S., Peng saw the weariness of lots of American companies after years of operating by a developed market mechanism. "The inherent model has lost its drive. They prefer figures, expertise and results," she says. She also saw chances for Alibaba. "China has the greatest potential in the world to be the birthplace of a great company. Sure, I do daresay that company may be Alibaba, though it also may be another company."
  The market economy has rejected many wonderful things, such as faith, openness and poetry, but Chinese people and Chinese companies have been gradually rediscovering their true selves with the recovery of culture over the last few years. Peng believes that the lost can be regained, and what she needs to do is "to make sure policies and systems are rooted with soul rather than products of the brain."
        网友评论仅供其表达个人看法,并不表明道农网同意其观点或证实其描述。