An Interview with Jack Ma:"We Represent the Power of the Fut
作者:Jia Linnan | 时间:09-09-14 | 来自:《Green Herald》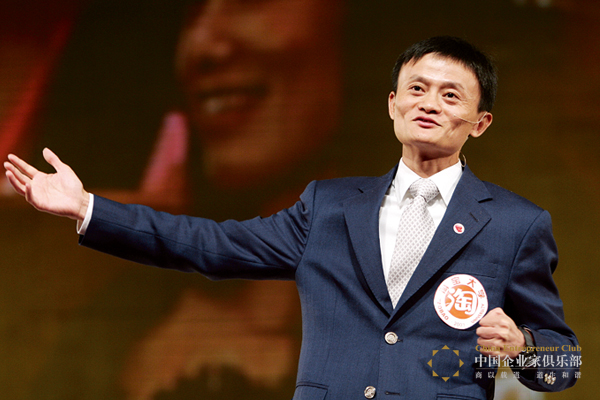 Q=Green Herald
  A=Jack Ma
  Q: Chinese commerce is at a historic stage in its development - what are your thoughts on this?
  A: China has been accumulating power over the past 30 years, and its economic growth over the next 30 will be even more amazing. Today we have gained experience, understood the significance of a reformed and an open China, and further recognized that globalization is facing an imminent reshuffle. I think the world is generating another huge opportunity, out of which the energy of China will spurt.
  The world has advanced from the agricultural age to the industrial age and now the commercial age, characterized by openness, responsibility, sharing and globalization. Just as if we were to construct a building, we now need drawings, plans and vision. The new commerce civilization will be achieved through several decades of human effort. But if you have identified the long-term objective and the road ahead, you can avoid going the wrong way.
  Q: What is your understanding of the phrase, "To distinguish between right and failure"?
  A: Every company needs to make clear the answer to this question: for what purpose do we exist? The answer should be to change, develop and perfect this society, or in concrete terms, to create value and to foster a number of outstanding teams while repaying shareholders.
  I am convinced that in this world, righteousness that is carried forward will make you more successful. This is an eternal truth. In the previous commercial environment, private companies striving for survival and competing for profit were often placed under hard conditions and had to make tough decisions. Now is the time to make a fortune the right way.
  The growth of Alibaba over these years showed that more success and better performance can be achieved as long as you make your profit the right way and create value for society. If you do not assume social responsibility, it is not the law but the society that will punish you, as will your conscience and, afterwards, your descendants.
  Q: What do you think about your position as a leader among Chinese entrepreneurs?
  A: Without the commitment of previous generations of private entrepreneurs, we are nothing. We do what we do with appreciation in our hearts, but we should not do things for appreciation. Otherwise, it doesn't make sense. That may be the answer to your question about distinguishing between right and wrong before judging success and failure. There must be right or wrong in everything, but it is meaningless to do things in order to prove this.
  I don't consider myself a leader. I think I just represent high-level productivity and the interests of the maximum number of people, as the Communist Party of China claimed itself. We represent the power of the future and the power of the younger generation. We stand together with them to explore a future instead of looking back at a past.
  Many people prefer to review what happened yesterday, while every day I am concerned with what is going to happen tomorrow, the day after tomorrow and the year after. Just leave the past for others to comment on. I don't have to bother myself with that.
  Q: It is said that your aspirations have always been set quite high, challenging interest groups and testing the limits of the law - for example, Alipay.com. In this way, within five to 10 years you became influential enough to impact vital parts of the state using the Internet. This may put you in peril in the future. Don't you worry about that?
  A: It won't be true if I said no. But just worrying is of no help. If you think you are going the right way, prove it. I believe that this world is becoming more and more open and I am full of confidence in China's economy and Chinese leadership.
  For us, the militia has to grow into a regular army. A militia that calls itself thus will always be a militia, and thus will never become a main force for the commercial civilization.
  Q: What do you think about the failure of Mikhail Gorbachev?
  A: I met him twice in person. It would be better if we looked back at his impact on history after 50 or 100 years. Any comment on him today, either good or bad, is biased by context. However, I believe our descendants will be able to judge him fairly.
  Q: Does this apply to you?
  A: Any deed of Alibaba is either good or bad in the eyes of different people. We must be judged based on the long history of commerce. Similarly, Gorbachev must be judged based on the long history of socialism and Communism. That is why it is hard to comment on him today.
  Q: What's your opinion on the relationship between enterprises and religion?
  A: It is a bit much to look upon a company as something comparable to religion. Religion is a culture first, then a philosophy. Companies must be a hybrid of Tao (philosophy) and Shu (skill) and must combine its culture and its way of management. Specifically, the only way to succeed is to integrate Tao (mission), Fa (law) and Shu (result). If any of them is absent, nothing can be done.

        网友评论仅供其表达个人看法,并不表明道农网同意其观点或证实其描述。