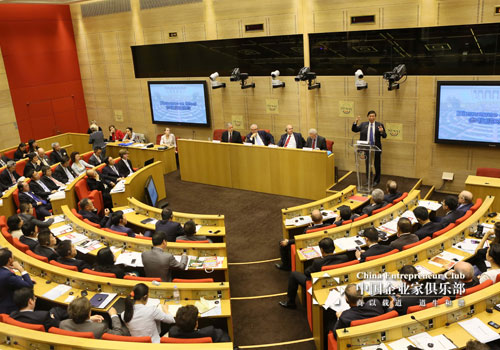 Preliminary agreements of intent entered into with UNESCO, De Gaulle Foundation, Dassault Systèmes and Schneider Electric, among others
  BEIJING, July 5, 2013 -- A delegation consisting of nearly 40 well-known Chinese entrepreneurs, economists and diplomats visited Belgium and France consecutively in the past week. By talks with political leaders, business leaders and well-known academic institutions in the two countries, they promoted mutual understanding and reached some preliminary intention on cooperation.
  The delegation is from a non-profit organization - China Entrepreneur Club (CEC). Liu Chuanzhi, founder of Lenovo, acts as its leader, and the members include, among others, Guo Guangchang, founder of Fosun Group, Michael Yu, founder of New Oriental Education and Technology Group, Zhu Xinli, founder of Huiyuan Juice Group.
  The China Entrepreneur Club was founded in 2006 and comprises a total of 57 members, of which 44 entrepreneur members manage more than 250 billion euros (data as of 2012) in corporate annual turnover and constitute an important force in China's national economy. This trip to France and Belgium is the third international visit by the China Entrepreneur Club, after its visits to the United States and the United Kingdom in 2011 and 2012 respectively.
  "During this trip to France and Belgium, we had three main objectives: the first was to learn more about the experience of France and Belgium in developing a modern commercial environment, the second was to introduce Chinese entrepreneurs to Europe, and the most important one was to seek new business opportunities," Liu Chuanzhi said.
  The delegation met with Belgian Prime Minister Elio Di Rupo, European Commission President Jose Manuel Barroso, European Commission Vice President Joaquin Almunia, French President Francois Hollande and other dignitaries throughout the week. They exchanged views on bilateral trade, economic cooperation, trade friction, non-governmental exchanges, foreign investment and other topics, and the delegation presented the development of private enterprises in China.
  "Indeed, today's Europe holds some emotion of anxiety about China, and it does not know much about Chinese private enterprises. It is a positive move of public diplomacy for entrepreneurs to directly communicate in Europe with politicians and actively seek cooperation with the business community to achieve mutual benefit," said Wu Jianmin, former Chinese ambassador to France.
  Pascal Gondrand, Chief Representative of the Invest in France Agency in Greater China added, "This was a very positive visit, and clearly demonstrates the kind of cooperation that we are building with China in order to drive growth in France. Increasing Chinese investment in France will bring significant benefits, both to France and to Chinese companies expanding in Europe."
  The delegation participated in the China-Belgium Entrepreneurs Roundtable Forum, the International Capital Conference, the China-French CEO Breakfast Dialogue and other events, and they also visited GlaxoSmithKline, Dassault Systemes, Schneider Electric, Chanel, Atos, Cartier and BNP Paribas and other enterprises. They were highly impressed by the performance of the enterprises in the two countries in institutional development, brand management, corporate heritage and technological innovation.
  Deng Feng, member of the delegation, Founder and Managing Director of Northern Light Venture Capital said, "French companies have their own characteristics. Their management philosophy and other soft aspects are things that we do not have, and those are worthy of our learning."
  Another member of the delegation, the famous Chinese economist Xu Xiaonian said, "Despite the current downturn in the French economy, we are very surprised at the French companies' capabilities in innovation. Whether it is Dassault Systemes or Schneider Electric, they showed a strong capacity and genes of innovation."
  On this trip, the delegation established intent on cooperation with some European companies and organizations. Mutual understanding between the parties in the early stages has laid the foundation for further cooperation.
  Liu Yonghao, founder of China's largest animal feed and farming enterprise New Hope Group said, "We will have a framework agreement on investment cooperation with France and the Netherlands to hold shares of a world-class livestock and seed company. By introducing its technology in breeding, food safety and deep processing of food into China, we will make Chinese people's food safer."
  Edward Tian, president of Broadband Capital, known as father of China's "Cloud", also expressed intent to cooperate with Dassault Systemes and Schneider Electric in cloud computing and energy efficiency management.
  In Paris, Huang Nubo, president of Zhongkun Investment Group, famous for his acquisition of land in Iceland, signed the "UNESCO - World Heritage in Sustainable Tourism Strategic Partner" agreement to establish a fund for the protection of world cultural heritage.
  The Lao Niu Foundation, initiated by Mengniu Group founder Niu Gensheng, reached a preliminary agreement of intent to cooperate with De Gaulle Foundation for activities to take place during the China-France Culture Year 2014.
  NiuGensheng and Zhang Xingsheng, on behalf of Lao Niu Foundation, as well as Xia Hua, president of the well-known men's brand Eve Group, Wang Chaoyong, Chairman of ChinaEquity Group and Huang Nubo collaboratively signed a letter of intent, to claim their support for the establishment of "China-France Culture Art Centre" proposed by Wu Jianmin and Jean-Pierre Raffarin, Vice-President of the French Senate and former Prime Minister of France.
  Guo Guangchang, Chairman of Fosun High Technology Group, who acquired certain stock rights of the French company Club Med, said in the international capital summit, "As for overseas investment by Chinese enterprises, our primary consideration is what the investment can bring to the enterprise, and the second is what the enterprise can do for society."
  More cooperation can be expected after this trip. According to Liu Chuanzhi, ten investment enterprises within the China Entrepreneur Club have set up an overseas investment alliance, and the primary purpose of their visit was to understand the situation; upon their return to China, the entrepreneurs will send related teams to further progress the projects that are believed to be of investment value, before carrying out subsequent investment cooperation.
  For more information, please contact Enya Chen (chenyl@daonong.com).