CSL chairman John Shine says an improving economic relationship with China, boosted by the recently inked free trade deal, has given Chinese entrepreneurs and executives confidence to push ahead with Australian joint ventures.
Professor Shine said in the past six months, on the back of efforts from Trade Minister Andrew Robb and the Australian ambassador Frances Adamson, conversations with potential Chinese partners have ramped up.
"It is really opening up, encouraging a more frank dialogue between ourselves and some of the Chinese companies that we might be interested in working with," Professor Shine said.
The signing of the agreement also sent a strong message from the Chinese government to its companies, which has put Australia "on the map", he said.
"It's on their agenda, it's upfront," he said. "It's been supported by their government and so they're keen to explore various avenues using that."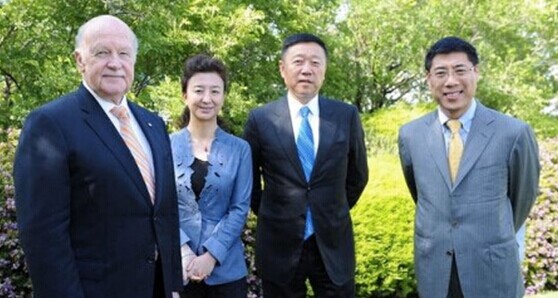 CSL has been in China for over a decade. It has about 120 staff in the country and has a burgeoning business supplying the blood protein albumin to hospitals for use treating burns victims and replacing fluid lost during surgery.
The company had revenue of about $US300 million from China in 2013-14, which surged 29 per cent on the prior year. Although the free trade agreement will not have a "practical" impact on this business, Professor Shine said it would facilitate better relationships.
The company, which pierced a market capitalisation of $40 billion this week, faces the obstacle of building a network of collection centres, not to mention regulatory change, if it were to supply other blood and plasma products in China.
The limitations faced by CSL in this regard was a key topic of discussion between the chairman and a delegation of uber-rich Chinese business people who visited the company's Melbourne manufacturing plant on Thursday.
The influential China Entrepreneur Club, which counts Alibaba founder Jack Ma in its invitation-only membership, have a delegation in Australia this week. The group wants to consider potential collaborations in China and opportunities in Australia.
"They're a group of very successful, outward-looking entrepreneurial spirited individuals," he said.
At the plant tour were executives like the chairman of Hong Kong listed shipping company SITC International and the chair of health, tourism and property conglomerate Sutrans Holding.
Professor Shine said there was an acknowledgement that China will need help to care for its rapidly growing, increasingly wealthy population. "They are very conscious about the increasing demand for quality healthcare and the opportunity and challenges that provides in China," he said.
Australian medical device maker Cochlear has a growing business in China, while private hospital operator Ramsay Health Care signed a provisional agreement with an operator in the city of Chengdu last month.
The free trade deal will open the door to more Australian healthcare companies. The deal will permit Australian medical service suppliers to establish Australian-owned hospitals and profit-making aged-care institutions in China. Australian pharmaceutical companies, including manufacturers of vitamins and health products, will benefit from the elimination of Chinese tariffs of 3 to 10 per cent that will be phased out within four years.
Professor Shine said the opportunities in China were clear, but companies needed to strike a balance between "enthusiasm and vigilance". "You don't have to be an economic genius to recognise that a lot of Australia's economic future is going to be quite closely linked to China," he said. "[However] if you get it wrong you can be damaged for quite some time."